Eight months ago, we had a catastrophic sequence of failures that – (as one of several consequences) – brought down our web infrastructure at the place of employment.
Due to the nature of some of those consequences, we weren't able to immediately bring that web infrastructure back up on any of our tier 1 equipment.
So I had to compromise.
Running around the office, I scrounged the most powerful PC I could find, and as much memory as possible to run up a temporary hypervisor – (Xen) – then copy the virtual hard disks off our storage array, fire all four virtual machines up on this temporary hardware, and finally get the suite of corporate websites back up and running.
I also didn't have a switch to connect it all back up to the fibre link serving our websites. You'll notice in the picture of this Frankenstein below, a Telstra VDSL NBN business modem acting as the switch. It was just laying around!
Yes – one of these!
Given the fibre link is 100Mbps, and the "switch" is a 1000Mbps "switch", this shouldn't have been a problem, but I was worried about the switching backplane of this little fellow. Was it going to be able to cope? I had my doubts.
And all of this was supposed to be temporary.
Temporary.
Right.
Got it.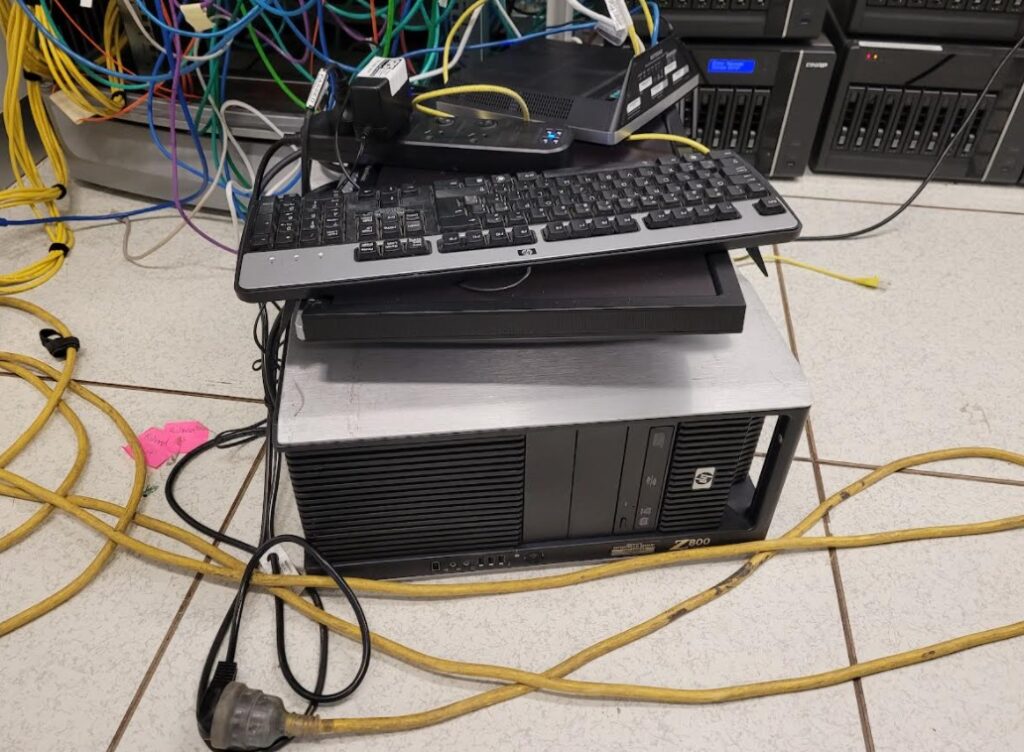 Obviously, it didn't work out that way, and it was eight months later that I was finally able to shut this "temporary" server down, having finally migrated everything back out onto proper hardware and networking again.
For eight months, this conglomeration hosted 28 corporate websites and served millions and millions and millions of web requests. I can't tell you how many – if I'd known it was going to hang around for 8 months, I would have made provisions to log and find out exactly how many!
What I'm most proud of when it comes to this beast, is that nobody knew it was like that. The performance of the websites dropped only marginally – (almost negligibly) – and this thing just kept on trucking.
Day after day. Night after night. Week after week.
I lived in constant fear of arriving at the office each day and finding the little Telstra router melted into oblivion, or the PC itself having died.
But it never did, not once.
It was the little server that could, and I'm going to miss it!
The moral of the story is that even in the midst of massive IT disasters, there's always a way – and that sometimes, the basics can get you by!
And above all, don't panic!