The 1990 Bathurst 1000 was an historic event for a number of reasons.
It was the first appearance at Mount Panorama of the Nissan Skyline R32 GT-R, commonly nicknamed "Godzilla". It was also the first time the circuit had ever been fully re-surfaced since it was first sealed in the 1950's.
There was also an unexpected winner – the Holden Commodore of Win Percy and Allan Grice.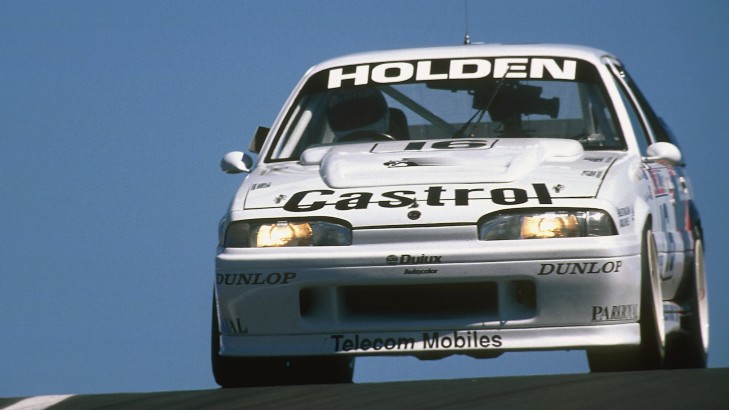 Touring car racing in Australia at the time was dominated by the turbo-charged Ford Sierras, and soon it would be the Nissan GT-R doing all the winning. Holden were largely also-rans, and had only won one significant race in about four years.
In fact, until Larry Perkins hit the lead early in the 1990 event, a Holden hadn't led a single lap at Bathurst since Allan Grice took the chequered flag as the winner of the 1986 race.
A Holden simply wasn't expected to win – but come the end of the race, the #16 Commodore took the win against all the odds.
Many believe it was the re-surfacing of the track that was a major factor. The new surface gave everyone more grip, and the Ford Sierras spent the first half of the race tearing their tyres to pieces because of it. So they slowed down to preserve tyres and the Commodores could stay with them.
There was also another significant happening that afternoon. Long time broadcaster of the race, the Seven Network – renowed for their innovation in motorsport telecasts – (they introduced RaceCam to the world in 1979) – embarrassingly missed the winning car crossing the line!
This had always bugged me – but recently, I fixed this!
In the opening of the telecast of the 1991 Bathurst 1000, there was a short in-car sequence of Grice crossing the line for the win. Having recently come into possession of high quality copies of both events, I took it upon myself to fix the mistake as best I could.
Here is the result of overlaying the missing piece onto the original broadcast footage:
Fixed for posterity!
On a final note, there *is* footage of the car actually crossing the line somewhere in the Seven archives. The Friday night before the 1991 race, Derryn Hinch broadcast his current affairs program from the circuit, and within his "Thank God It's Friday" segment, there was backpack camera footage from the pit lane of the car crossing the line.
I saw it at the time, and was pleased to see it – but I've never managed to get a hold of it. If anyone has a copy of Hinch's program from 04/10/1991, I would love to hear from you and fix this properly!